2018: FINALLY LOSE THE WEIGHT
WEIGHT CONTROL MAY HELP
+ FLATTEN YOUR BELLY
+ BLOCK FAT PRODUCTION
+ SUPPRESS APPETITE
+ INCREASE ENERGY LEVELS
+ IGNITE YOUR METABOLISM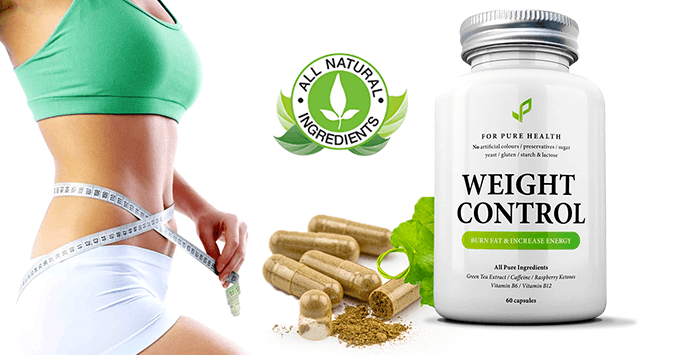 How does it work?
Weight Control is a potent thermogenic blend of ingredients designed to help you achieve your weight management goals. This unique formula is developed using evidence based ingredients, including B vitamins, caffeine, choline bitartrate and green tea extract. Weight Control combines 12 potent vitamins, minerals, amino acids and extracts.
The B vitamins work synergistically to contribute to energy production, and will help you keep up your energy with fewer meals while the chromium vital mineral helps to regulate blood sugar levels and reduce sugar cravings.
We have added White Kidney Bean Extract which prevents the breakdown of carbohydrates reducing the amount of calories absorbed from your food. Furthermore, our tablets contain Choline Bitartrate that will help contribute to normal fatty acid metabolism.
SAFE 100% Natural Ingredients
GREEN TEA
Several studies have shown that the flavonoids and caffeine in Green Tea can help elevate metabolic rate, increase fat oxidation and improve insulin activity.
CAFFEINE
As it stimulates the nervous system, caffeine tells the brain to break down fat cells. Caffeine triggers the release of a hormone called epinephrine, which prompts the release of adrenaline.
RASPBERRY KETONES
Raspberry Ketones can contribute to increased energy, rapid weight loss, mental clarity, hunger suppression, improved sleep and improved metabolism.
BIOPERINE
Bioperine has been shown in clinical research to increase the absorption of nutrients in nutritional supplement formulations.
CHROMIUM
Chromium is an essential trace mineral that has received much attention as a dietary supplement, as it can help to regulate blood sugar levels and reduce sugar cravings.
B VITAMINS
The B vitamins work synergistically to contribute to your weight loss, as it can affect how your body uses calories and support energy production